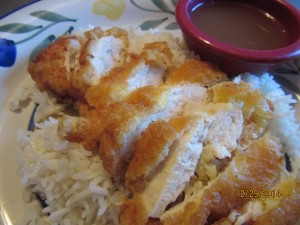 This dish comes with a couple names.  Either Almond Chicken or Almond Boneless Chicken or ABC Chicken.  It is commonly found in Michigan Chinese restaurants and features a thin chicken breast battered, fried, and served on a bed of lettuce with a brown colored gravy accompanying it.  It is supposedly not an authentic Chinese dish, we Americans got involved in oversees cuisine and well, the result is pretty good.
I have tried the two most popular recipes you can find all over the internet and they never really hit the nail on the head.  I can't say this is an exact replica, but my picky husband said it is delicious and is very close, if not "it."  We haven't had it in a long time, but it satisfied the taste I was after – hopefully you find it does you, too.  The breading is so yummy, you may find it better to slice the chicken before battering it, so you don't loose the breading when you slice it.  Or, dip the chicken in cornstarch or flour before battering it – that will help the batter stick to the meat better.
Batter Ingredients (for four chicken breast halves):
Two chicken breasts, cut in half through the middle to create four thin breasts
3tb cornstarch
3tb flour
1/2 ts baking powder
1 egg
2tb water
few drops of real almond extract
salt and pepper
Garnish with: lettuce, toasted almond slices, hot cooked rice, etc.
Gravy Ingredients
3c chicken broth
2-3tb soy sauce
1-2 ts salt
1-2 ts sugar
1/4 tsp real almond extract
4tb cornstarch mixed in 3tb water
Method
To prepare gravy, combine all ingredients except the cornstarch/water mix.  Heat liquid to near boiling, then add cornstarch mixture.  Heat until thickened. Taste and adjust seasonings – a lot of the seasoning adjustment depends on if you use homemade or storebought chicken broth as both can be drastically different in terms of salt and seasonings.  You may find you need to add additional salt to the gravy to compensate.
To prepare chicken, cut off visible fat and dry breasts.  Dredge in flour or cornstarch first if you wish.
Heat a deep fryer or skillet with 1/2 inch of vegetable oil to 350F.
 Combine batter ingredients and dip chicken in the batter.  Fry in the skillet or deep fryer 5-7 minutes, flipping once, until cooked in the middle and golden brown on the outside.
Remove chicken and let drain on a drying rack or paper towels.  If you wish, serve on a bed of lettuce with toasted, sliced almonds on top.  Dip chicken in, or top with, gravy,  We prefer serving the chicken with hot rice and a side of egg drop soup.