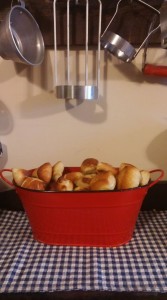 Everyone loves a yummy soft pretzel bite, right? These are perfect for snacking.
When I made my pretzel bites, I used my "go to" white bread recipe.  It makes two loaves of bread, but I never did count how many bites it made.  It made enough to feed six kids plus me with leftovers though…
You could use any dough, I'd imagine.  Follow the technique.
Ingredients:
Pot of water with a handful of baking soda.




Method:
Preheat your oven to 425 F.  Grease a pizza sheet if you have one, otherwise a drying rack on the oven rack may work as well. I bet a parchment lined cookie sheet would be ok as well, but I haven't tried it.
Bring the water to a boil.
Prepare your bread dough. No need to rise – the bread will rise a bit during its waterbath.
Divide the dough into 8 equal portions, then roll the bread into long ropes about an inch thick.
Cut at even intervals – around an inch or so.
When the water is boiling, drop a handful of bites in the water just long enough for them to poof.  This happens quick – about 20 seconds or so.  You want to keep the water boiling, so only drop a handful of bites in at a time.
Using a spider or slotted spoon, remove the bites and lay them on the pizza sheet. Avoid having them touch, but don't handle them too much.
Prepare as many bites as you will eat.  Dough can be refrigerated for another snack, or cut into bites and frozen.
Bake them for about 7 minutes or until they are a deep golden brown.
Remove from oven, top with butter and add salt.  Pretzel salt is delicious, but I only had table salt for pictures, so we sprinkled that on and it was still delicious.
Enjoy!